Leave the wedding list in style
OPULENCE • The Journal • May 18
---
It was a groundbreaking concept, back in the day, when Marshall Field's, the Chicago-based department store, introduced the wedding list. For the first time couples could select exactly what they needed to set up home. In those days, silver, china, crystal, and linens were the popular wedding-gift items. Woe betide anyone who dared stray away from the list. It was simply not done.
These days, with the majority of couples either cohabiting or living in their own homes before marriage, items such as toasters, dinner sets and nutribullets are increasingly shunned. Instead, the wedding list might ask for a contribution to a honeymoon fund or a donation to a charity. Some couples need a deposit for a home, whilst others dream of world travel.

No matter how relaxed the wedding list, these days there are always some guests who do the unthinkable and go 'off-liste'!
Though this can spell disaster, we think, in some cases, it can be a splendid idea.
Take Clive Christian, the British perfumer. He was one such wedding-list rebel. He gifted the royal couple, Catherine and William, a His and Hers set of Clive Christian's No. 1 Imperial Majesty Edition. The bottles themselves are works of art, decorated with a 24-carat gold collar with diamond inset. Beautifully presented in a satin lined case it is adorned with a coat of arms embroidered in gold.
Ingredients include Italian cinnamon rose, which requires a minimum of 170 blossoms for a single drop of essential oil.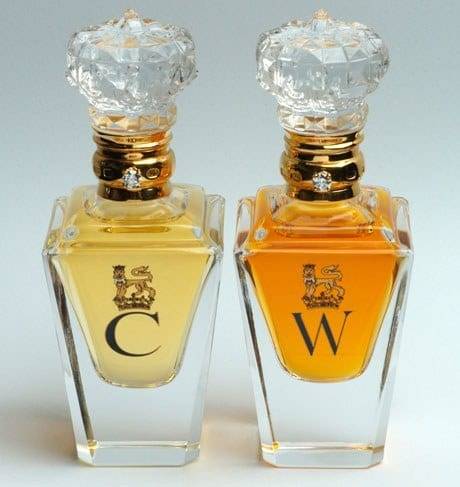 Listed in the Guinness World book of records as the most expensive perfume in the world, the ingredients cost around $2,350 per oz.
It goes without saying that most budgets would not stretch this far even for the dearest of couples. However, if you fancy going 'off-liste' yourself, STOW offers an interpretation of the ultimate wedding gift in the form of their coveted gift sets, for both men and women.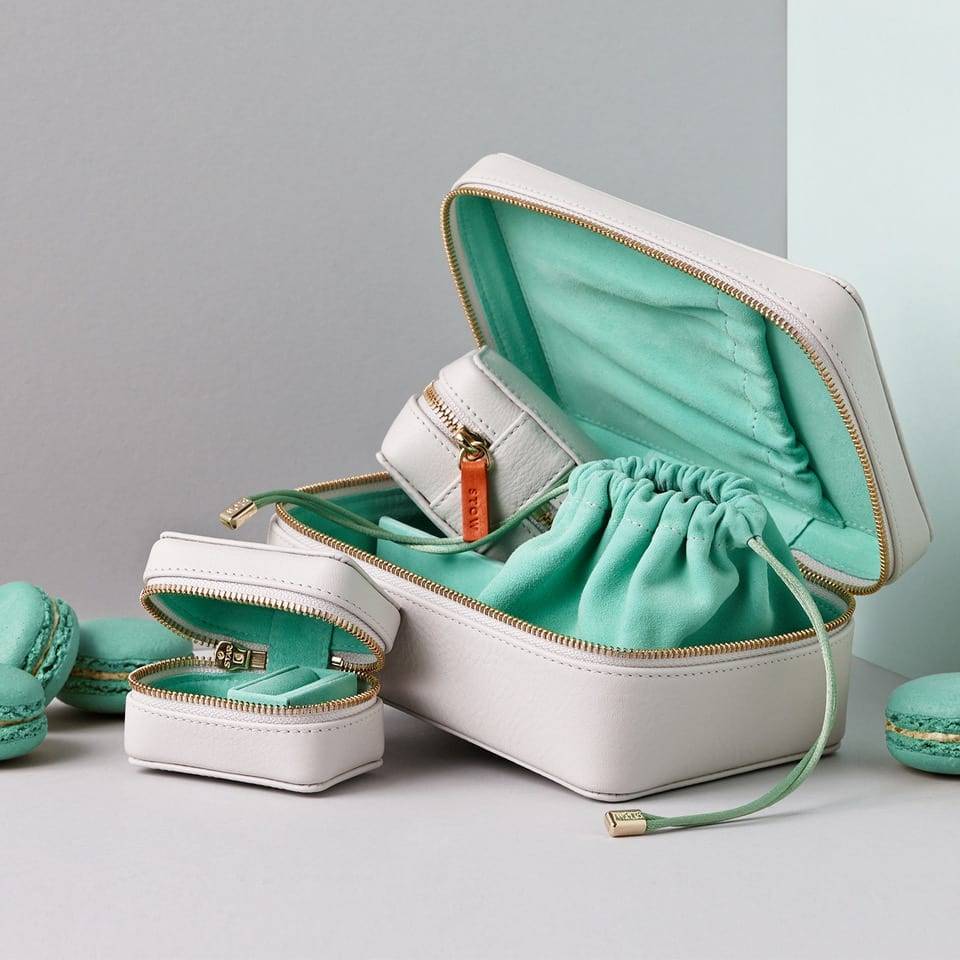 Marrying function with form, these luxurious gift sets organise your precious items whether you're home or away.
'We see the gift sets as so much more than a present,' says STOW's designer. 'They represent a way of life. They're the ultimate in luxury. Who wouldn't want to jet off on honeymoon with their finest jewellery and watches on hand?'
Much sought after, and remaining as STOW's best sellers year after year, the gift sets will delight even the most particular of couples.
'You feel like movie-star when you sit at your hotel dressing table and open one of these.'
The Amelia Leather Jewellery Case 3-Piece Set is the ultimate luxury travel gift for her. It is a jewellery case combined with two charming trinket boxes. This allows smaller pieces to be used separately – one can easily be stowed in a handbag, gym or overnight bag – leaving the main case on the hotel dressing table. It is perfect for longer holidays or a honeymoon, when several special pieces might want to be stowed.
Available in six different colour combinations, new colours for this season are aquamarine and spring pink.
The three-piece Amelia is STOW's most popular gift set. Owned and loved by people like Lily Allen and Sarah Willingham, its design was inspired by frequent customer requests and is certain to be a welcome 'off-liste' gift.
'The perception is that you're gifting the ultimate set. It's a treat most people wouldn't get for themselves. It says you care.'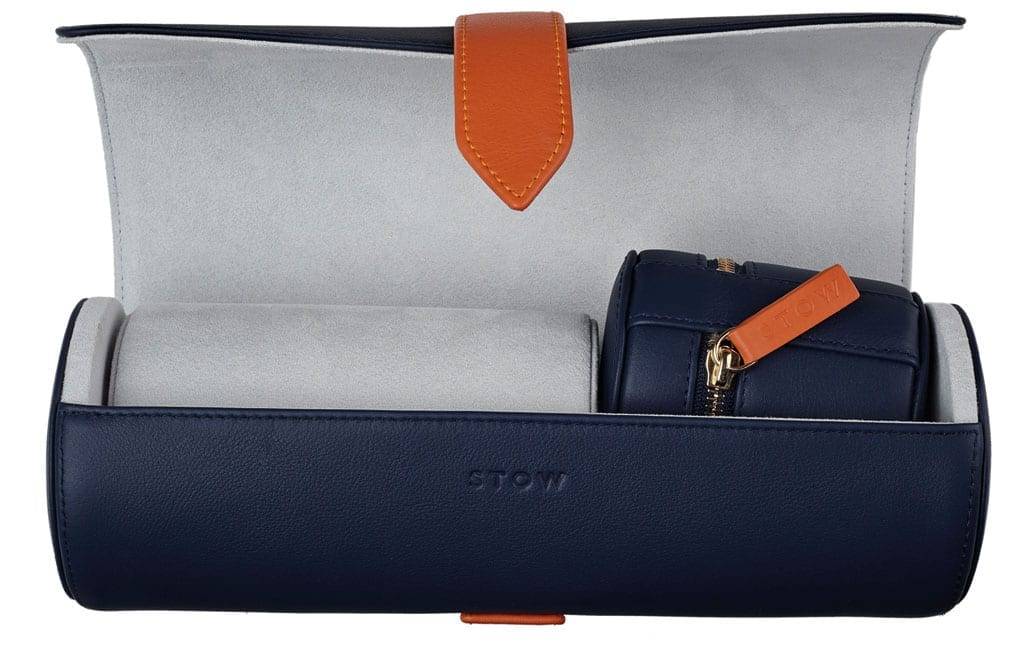 For the men, the Sanderson Watch Roll and Stud Box gift set is STOW's bestseller. Beautifully and uniquely constructed with removable sections, it can stow several watches plus, if required, a stud box. The Sanderson Leather Stud Box, a stylish and multi-functional item, can also be used separately, if on the go.
Owned and loved by people such David Harewood, the set comes in stunning colours such as Smoky Quartz Brown and Obsidian Black.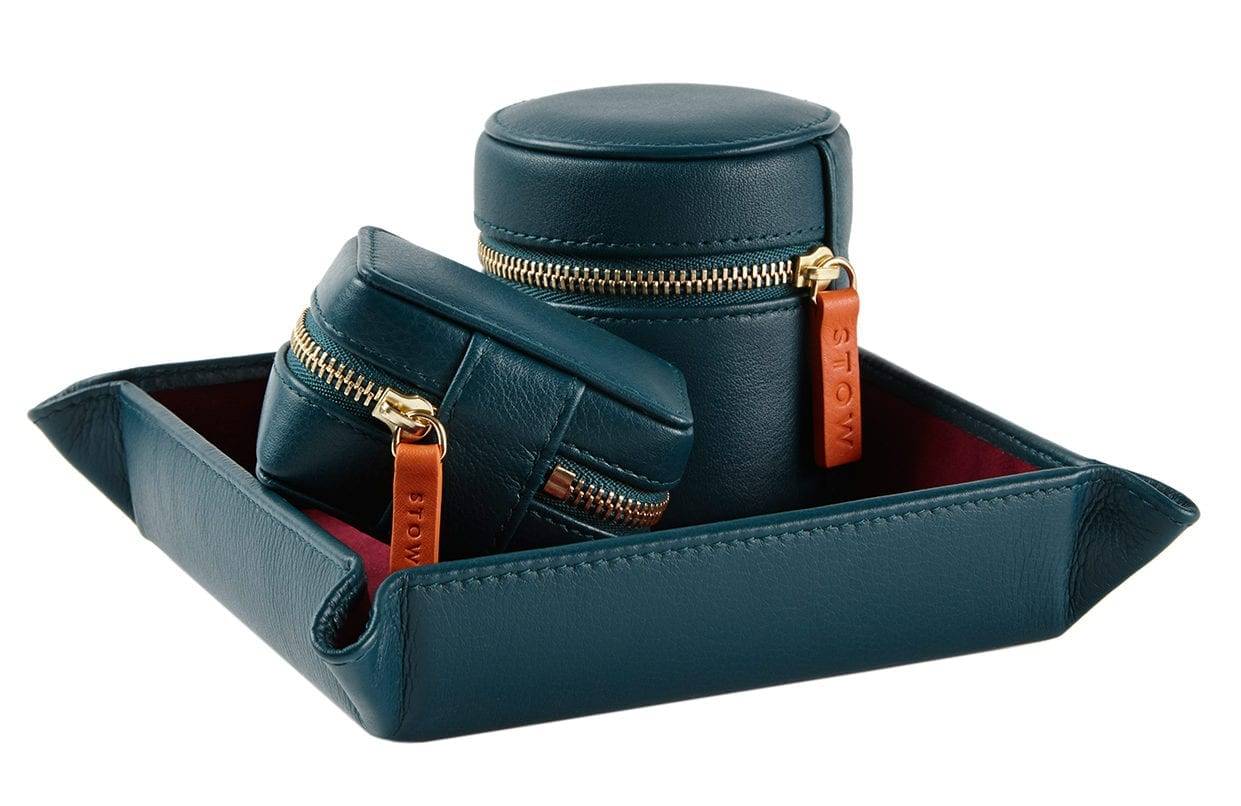 Also for the men there is a three-piece gift set comprising a cufflink box, coin tray and stud box. It makes an ideal wedding gift for the travelling gentleman or for use at home.
The Sanderson Leather Cufflink Box is small enough to be stowed into briefcases and cabin luggage, storing collar studs, shirt studs and cufflinks. The coin tray flattens for travel and keeps keys, coins, a phone and small accessories smartly organised, whilst brightening up a desk or bedside table. The Sanderson Leather Stud Box can be easily stowed, perfectly storing a dress watch and collar studs.
Completely new for this season a sumptuous array of colours is available.
So, if you're stuck for a genuine wedding gift that will stand the test of time, don't be afraid to go 'off-liste' with STOW's stunning gift sets to suit both bride and groom.