In Your Hands Charity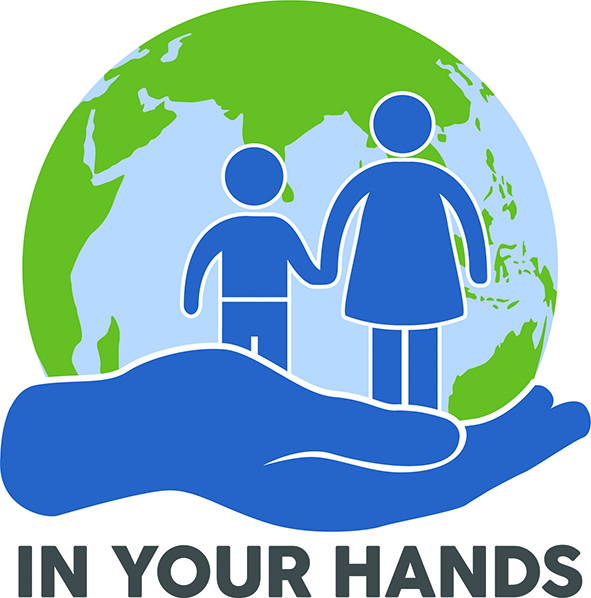 STOW is supporting the 'In Your Hands' charity by donating 15% of sales of all our new Limited Edition Suede Pencil Cases to their cause.
http://www.inyourhandscharity.org/
STOW's 2020 nominated charity, 'In Your Hands' was set up by two lifelong friends, Pauline Sanderson and Jo Pawley in September 2015 to help raise funds for the people of Nepal after the devastating earthquakes in April and May of that year.
In Your Hands commitment is to ensure that every penny is used to benefit Nepal - their greatest goal is to leave the communities that they support in a rejuvenated state so that they no longer have to depend on charitable donations.
Below, is a Diary written by Carols' daughter, Tor Lovell, on her life-changing experience volunteering in Nepal with IYH.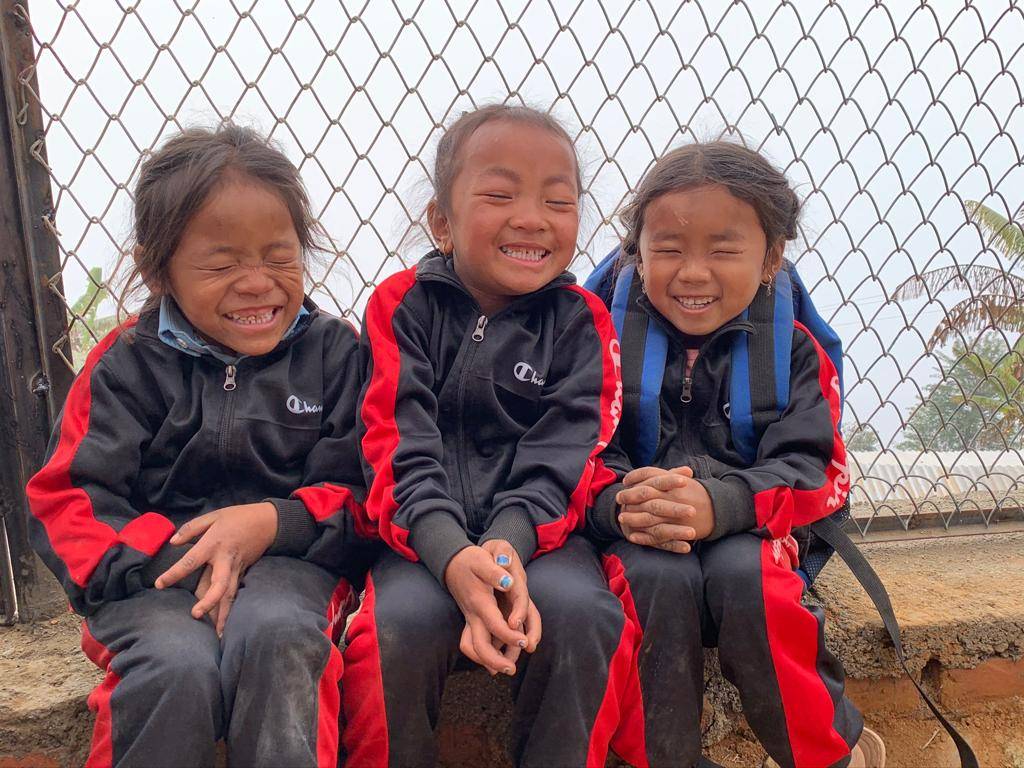 Diary of volunteering in Nepal with In Your Hands Charity. By Tor Lovell, aged 17.
Kathmandu is a spider's web, the city is built and supported by endless entanglements of thick cables and dark wires. The tightly knitted, threaded cable suspends itself between brightly coloured shop fronts and permanent pop up stalls that hold treasures of all colours, textures and validity. There is an abundance of faux North Face jackets and Burberry bucket hats, but most noticeably, an inconceivable amount of 'hattie pants'. 'Haathee' refers to the Hindi word for elephant, the common choice of animal to be printed onto thousands of soft, light fabric trousers. If you do not return to your own home having been to Nepal without a pair of these stereotypical travel trousers, did you ever truly go?
February 14th:
Our group of 13 touched down in Kathmandu at 6 pm local time on the 14th February having busied ourselves with almost 24 hours of travel, including a welcome stopover in Dubai. Valentine's Day had been forgotten about, that was until we took our first walk through the streets of Kathmandu where parts of the road were lined with floating red heart lanterns. We had a slightly less romantic evening consisting of unpacking at the Kathmandu Guest House, an absolute paradise we came to realise later on, and discovered the dish of the trip, 'Momos'. Momos are effectively dumplings however the novelty of a new name and eating in a new country never wore off. The day ended with 'Holiday Mum' Jo Pawley, one half of the co-founding team who set up the charity, giving a rough explanation of the following days - with all of us being exhausted, she did have to re-explain all over again the following morning. But at that moment, we were all content with getting to know each other over drinks and starting to create bonds that have continued to last.
February 15th:
Waking up the following morning was a delight, having dreamt of Nepal that night and then waking up to my dream, I was fairly certain that already, I was in love with the place. My mother's situation differed slightly as she fell out of bed and groaned, "I feel 104". We were up and out of Kathmandu after a speedy breakfast and what came to be the last warm shower for a week, chucked in a tourist bus we were whisked off to Sukute Beach Adventure Resort - ironic really because Nepal has no seaside beaches as it is a landlocked country. The drive was three hours and you were kidding yourself if you thought you would be able to nab a couple of hours of rest. Sophie, the eldest daughter of Jo 'Holiday Mum' had been to Nepal several times before and slotted into the position of 'Holiday Mum 2' quite nicely, it is safe to say she knew everything and correctly described the drive as "Pothole City". Sukute was the intended destination in order to meet Milan, a very gentle and kind local man who works alongside Jo and Pauline (the second half of the co-founding team for the charity) as their connection in Nepal.
The aim of this day was really just to settle in and prepare for our visit to the first school the next day and our first inevitable English tourists' activity was white water rafting down the river next to the resort. We arrived back slightly soaked and tired and in great need of some delicious Nepalese food. The taste is quite indescribable so I will not attempt to explain, just know that every platter I tried topped the last and this only continued throughout the trip - my love for Nepalese food will become evident as I continue. After a hot rum around the fire, we dispersed to bed, excited for the following day.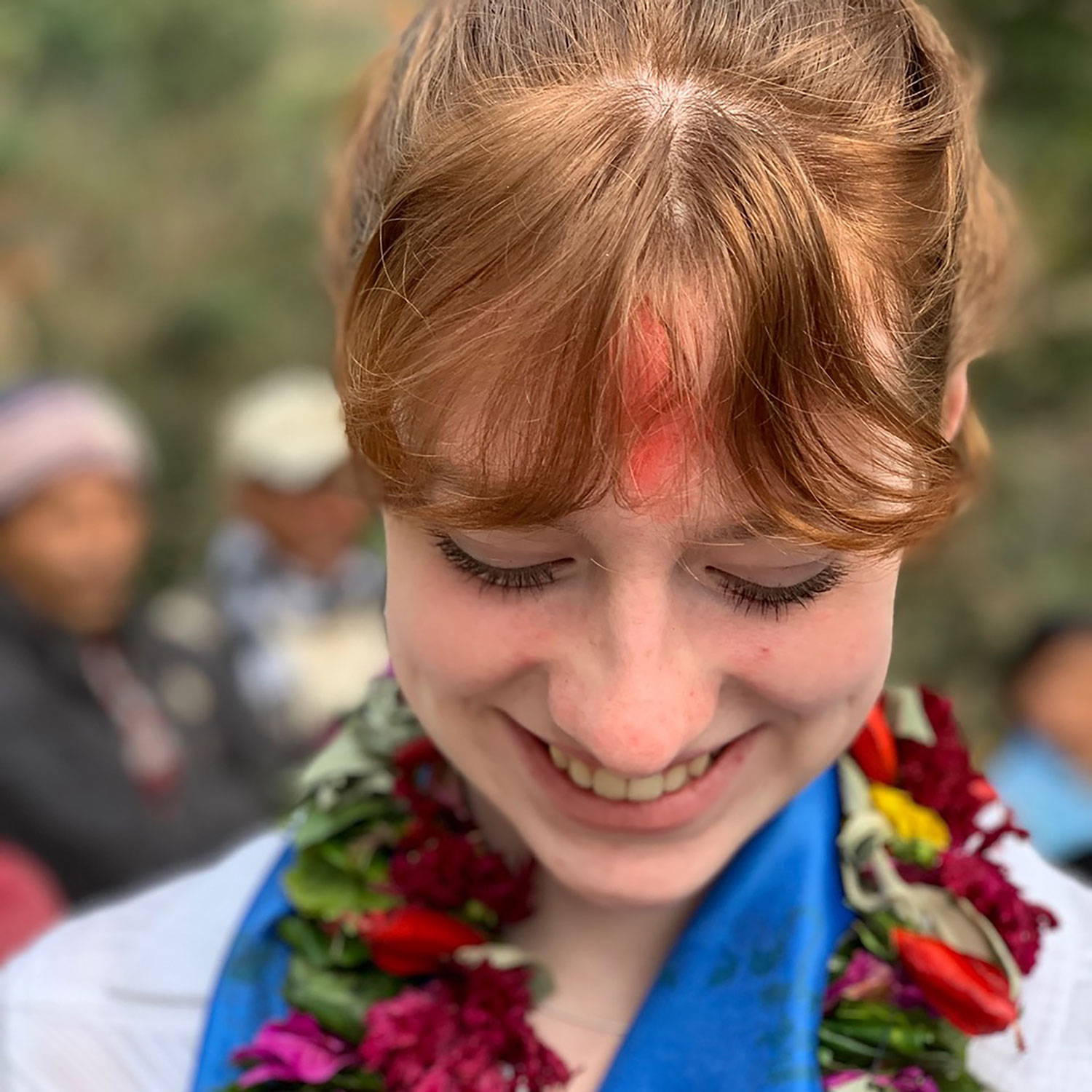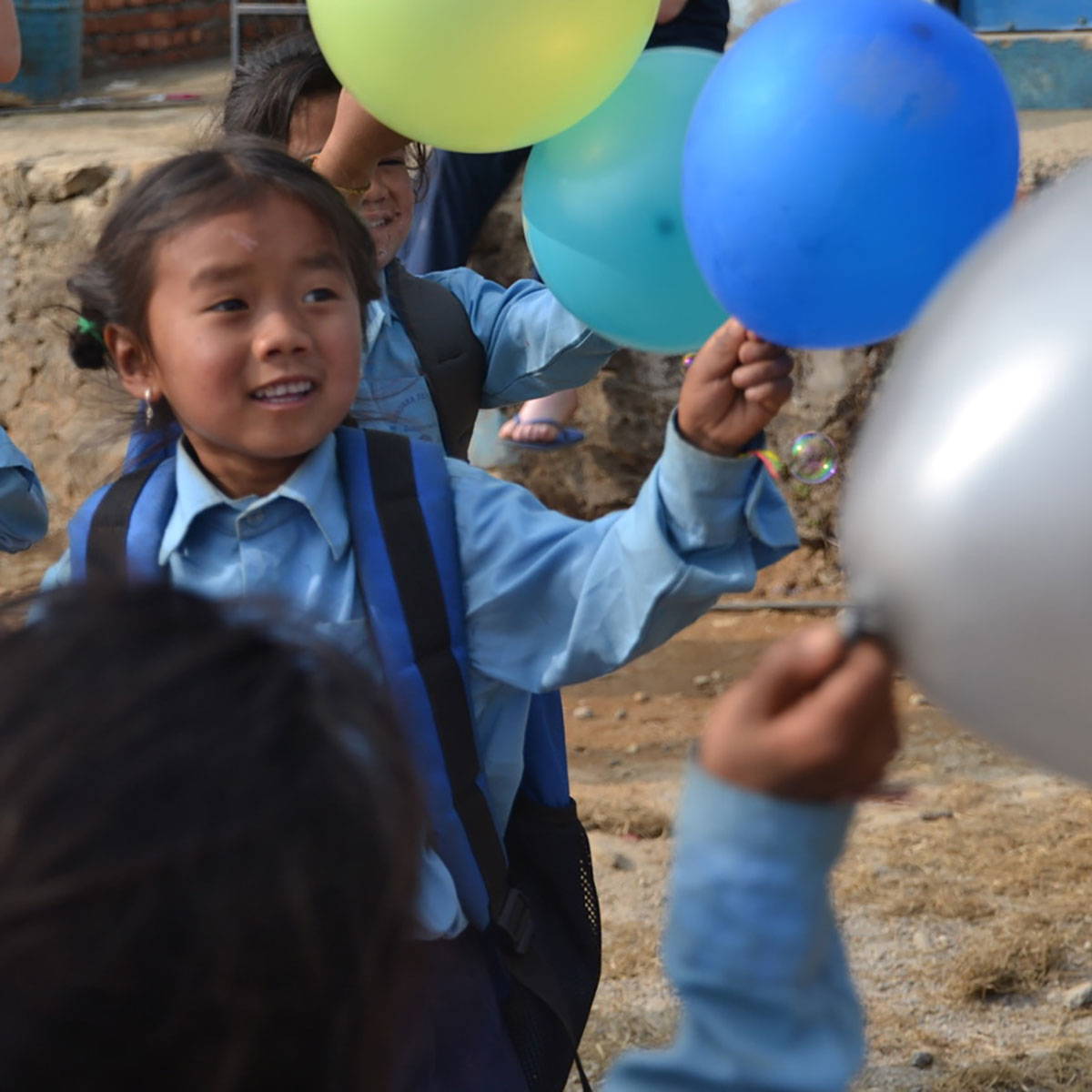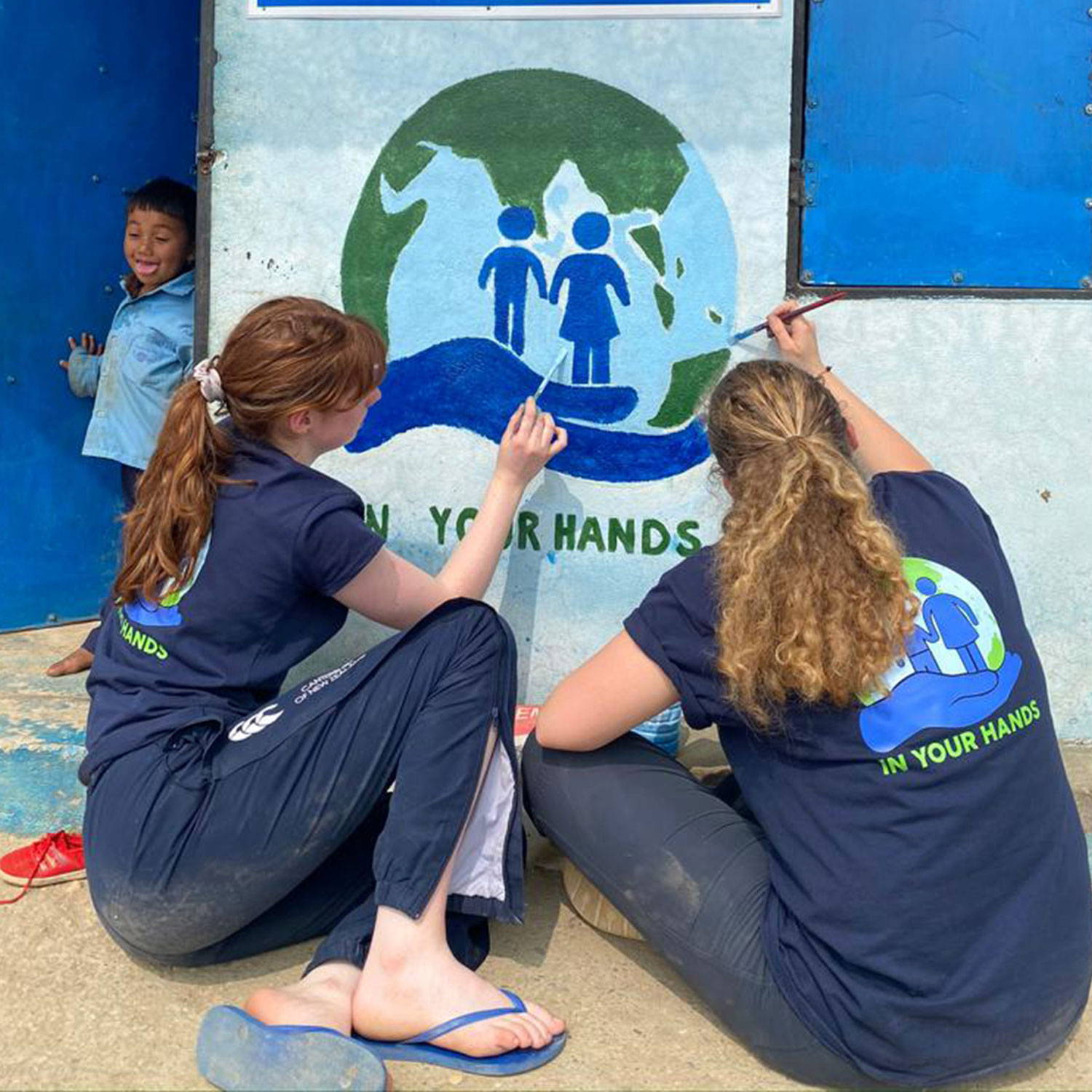 ---
February 16th:
Welcoming the day with perhaps the coldest shower of my life was an unusual start, however, I would soon get used to no showers for several days. Plenty of us have been camping with family or friends or have had a petty plumbing problem or have been in some sort of rare situation where we have had no access to a shower, but at the end of it all we take it for granted and know that we have good and reliable access to hygiene, it is not the same for everyone. After an absolutely unmissable breakfast of omelettes and potatoes, the group was prepared for the 45-minute walk to the first school, the Shree Singha Devi Basic School. Leaving fairly early in the morning, we ascended a wide accessible path of the most brilliant orange and yellow sand, it was cloudy and the mountains were not visible so we were surrounded only by the banks of the path and the tall trees.
We reached the school and were greeted by a woman wearing the most stunning outfit of bursting red, she taught English and spoke it well, enabling her to become one of the bossiest people I have ever met, being kind at heart too made her quite the character. We had not yet spied the children and discovered why as we entered the gates. They were all lined up neatly in an orderly queue appearing understandably timid and shy, however, this was immediately broken after we ushered our only known word of the native language 'Namaste' as we bowed our heads and pressed together our palms, it was after this initiation of comfort that the hidden smiles were revealed and their own confidence grew as well as ours. A few of the older children came forward and eagerly spouted their knowledge of English, "Hello my name is… and I am in class… I live with my family…" to which we told them our own names, however, these clearly absurd English names were not understood and were met only with blank silence and a shy smile. These gestures were repeated until the line of children ran out and lastly, we were 'initiated' into the school with the gift of bright flowers which I wished could have been preserved forever and soft, lush red power was pressed firmly to our foreheads.
The children enthusiastically sang to us their beautiful national anthem, I think the majority of them were purely excited to have the morning free of lessons! After this performance, the atmosphere quickly relaxed and chatter broke out in the schoolyard. An idea that seemed superb at the time but quickly descended into chaos was introduced. Beanbags and parachutes. The variety of games ended up establishing itself as a riot. It became our designated job to launch the beanbags as high as possible into the air and the children, ranging from the ages of 5-13 would race and compete to catch them, you can imagine the carnage… This lasted an hour or so before the girls and boys divided themselves and we were taken aside to let the girls place delicate flowers in our hair, a classic image of worldwide girlhood. Universally, children really are all the same.
Myself and Gala, a friend from home who travelled with her own mother and us, were hauled back to maturity when asked if we wanted to stand in on the Women's Health Workshop. I had been so absorbed in flowers that I had not noticed the steady arrival of about 130 women, roughly every woman from the local area, all dressed in a splendid array of hot colours creating a divine image which of course is their normal every day. News of the impending Coronavirus was only starting to become serious on our way back to England, it is only looking back now that I realise that here at home, the main message is to wash our hands, but in countries similar to Nepal, much of hygiene is an entirely bizarre concept. The room was packed with stunning women ranging from newborns to hilariously funny grandmothers and each and every one of them was greatly intrigued by hand washing. As well as teaching the importance of hygiene, key areas of sexual education were taught, the elder ladies could not contain their laughter over certain diagrams, and also basic areas of self-defence. The main aim of the workshop, perfectly delivered by an educator associated with the charity, 'Days For Girls' was to educate and inform about hygiene but particularly topics surrounding menstruation. 'In Your Hands' uses some of the money donated to provide as many women as possible with reusable sanitary products, these bags were handed out after the workshop to many grateful women.
Later we said our goodbyes and wandered back to the Sukute Resort, the sun had appeared and the clouds had dispersed allowing the heat to radiate through. The cold showers were now acceptable and soon everyone was quickly changed and ready for snacks - today's consisted of deep-fried cauliflower and popcorn… delicious. The Shree Singha Devi Basic School is the most recent to join the 'In Your Hands' roster and the least isolated, the school was adopted by the charity after a former organisation pulled out. We went to bed happy and content with the first day of charitable work and prepared ourselves for the next day where the harder work truly began.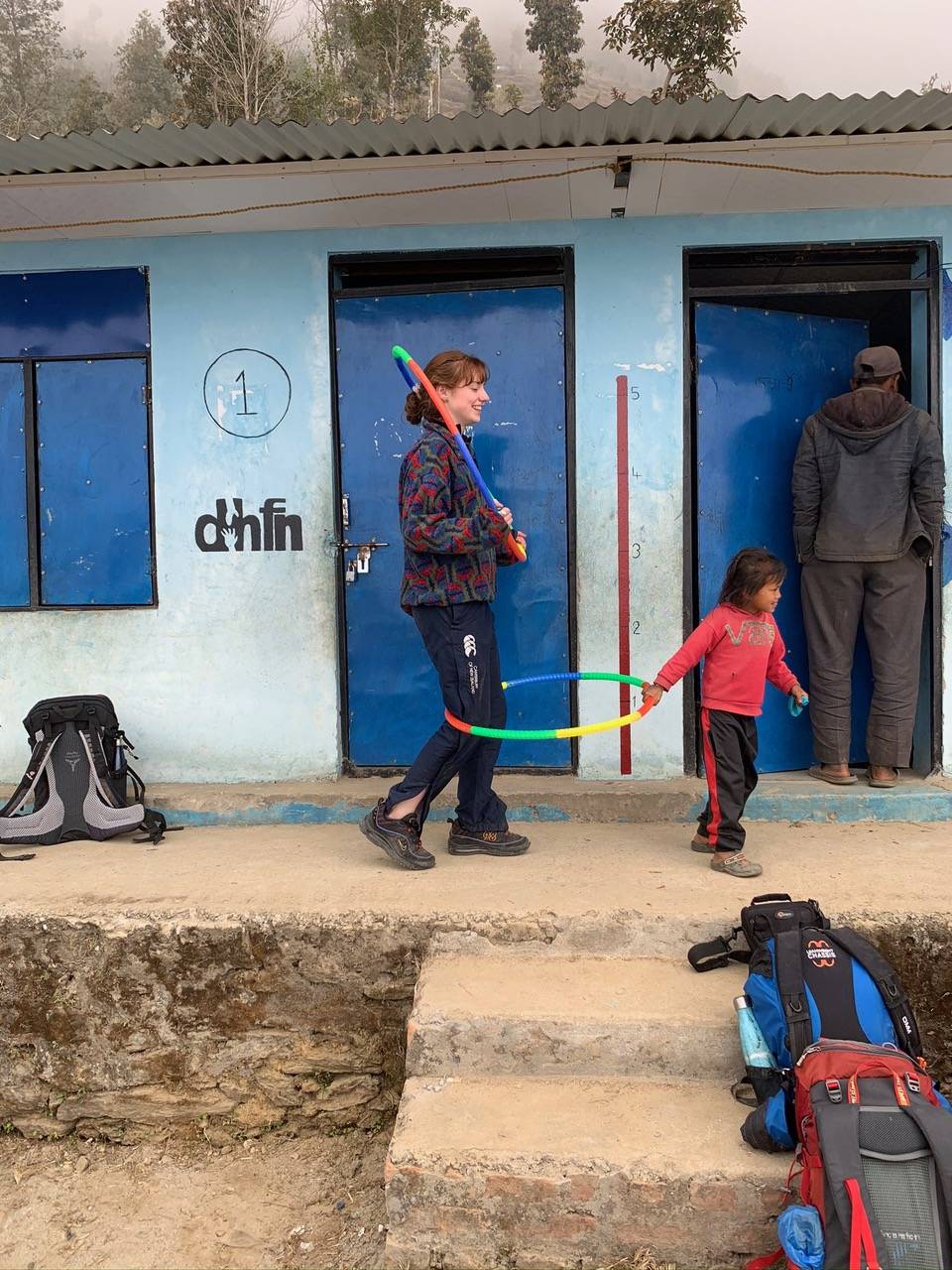 February 17th:
The morning repeated itself like the day before and we trotted out of our room to indulge in another perfect breakfast. The drive to the Shree Sundara Devi Basic School was interesting, to say the least. The driver of our Jeep was young and smiled cheekily at his friend who was driving another Jeep, we knew it was going to be an adventurous, two-hour ride to one of the most isolated schools that 'In Your Hands' is associated with.
We soon reached the off-road and considering the lack of seatbelts paired with the fact that our driver constantly was on the phone, I felt quite safe in the hands of the local Nepalese man. It was a drive that I will most likely remember for the rest of my life, we were told it would be bumpy, but it wasn't just bumpy - it was death-defying. I might be exaggerating but it was an experience.
Eventually, we arrived and were greeted by beautiful children, many had cuts and scabs on their faces and hands but their smiles were permanent and lasted throughout the day. The main thing I noticed whilst in Nepal was the people's lasting kindness towards us. Whether they were poor, unwell or dirty, each and every person would return a smile.
The children handed us scarves and flowers which I wish could have lasted forever and to begin with the only communication between us and the children were subtle and sneaky glances whilst we waited to get involved in their school day. I was part of a group that jumped at the chance to spend the day with the youngest group of children, "Namaste" was used to break the ice and soon smiles were traded freely among us. We read them a storybook, which was kindly translated by Milan and I think the main thing they took away from this was the word 'monkey'. 'Butterfly' was often confused with 'butterlee' but it was a fun afternoon for everyone. Next, we taught them the numbers from 1-10, in a country like Nepal where the country's main source of income is from tourism, being able to speak English is extremely useful. There was one young girl who was very good for a young person and took to English quite naturally from what we taught her.
Later in the afternoon, a game of football dominated the playground area whilst we began to plan what we were to paint onto the school walls the following day. The aim of this was to brighten the atmosphere of the school and create something exciting for the children to look at and interact with.
The evening ended with dinner - amazing as always - and a campfire whilst someone played the guitar and the children had all gone home.
February 18th:
Last night's sleep was limited due to barking dogs and retching noises (we were staying in tents so everything could be heard), the children and the community also woke early. A rush to brush teeth under an outside tap is what started the day followed by a breakfast that was more like a banquet. Whilst we were finishing our own breakfast, the children began to arrive at school - very early! This was our cue to unwrap the bouncy balls and hula hoops both of which would have kept everyone busy for years if it wasn't for the obligation to attend the first lesson of the morning.
Whilst the children were busy in the morning, we began to outline and paint the walls of the school, images included pictures of types of weather, a measuring stick, the 'In Your Hands' logo and Nepalese prayer flags. Inside the classrooms we were able to paint a large number square, the days of the week and the months also, at the end of the day when the children saw what we had painted, they were delighted, if not probably a bit confused, to begin with.
Once we'd finished the paintings and the afternoon lessons were completed, the revelation of bubbles and balloons caused an exciting chaos. The playground area was swarming with every activity and created a community of happiness. Once the school day finished, the children went home only to change out of their uniform (provided by 'In Your Hands') and returned for more fun until the evening! They now all know how to say 'Goodbye' and also how to blow a kiss.
February 19th:
After another night camping in the school playground, the children began to arrive at 7:30, Gala rightly said: "You can't keep British children in school but you can't keep Nepalese children out of school." Our tents and bags were packed away and we were ready to leave at 8:30.
All Nepalese people are beautiful, every girl and woman seems to have a gold nose piercing and all the men and boys, an ear-piercing. We ended up leaving a little later than expected, slowed down by the children as we were trapped and dragged around in hula hoops and games with balloons and beanbags.
Another thing that surprised me at first was how robust and physically strong all the children were. Many had scabs and cuts and if ever they fell over or got hurt, they got straight back to whatever it was they were doing before. Each of the children are also brutally honest and direct with each other, a petty argument is solved simply with a push to the head.
It was hard enough to leave everyone after two days let alone staying for a month or more!
Just before we left, we were thanked and given scarves which I learnt symbolise good luck and the gorgeous red power was pressed against our heads once again. We then drove back down the mountain to Sukute except for this time, in our rickety Jeep, part of the rubber on our tyre became detached and so someone sawed it off with a scythe and we continued as normal.
We arrived back in Sukute and to continue our travels which involved some sightseeing and cultural immersion in Kathmandu.